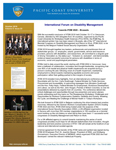 During the conclusion of IFDM 2018 held in Vancouver, Canada, October 15-17, attended by 400 delegates from 30 countries, organized by the Pacific Coast University for Workplace Health Sciences (PCU-WHS), the handover took place to Brussels, site of the 10th International Biennial Congress on Disability Management and Return to Work – IFDM 2020 – to be hosted by the Belgium Federal Social Security Organization, INAMI.
Attached please find the bulletin with further details with regard to the IFDMs going forward.
Over 80 Presentations were delivered by experts from 20 countries during the conference. These have been uploaded to the IFDM 2018 website. Please click on the tab marked Program on the website and click on the links provided in the titles of the Plenary presentations as well as of the Concurrent Workshop presentation titles.
To view the Gallery of Photos taken at IFDM 2018, please visit the IFDM 2018 website and click on the tab marked Gallery of Photos.
To view the Welcome videos from Federal Ministers Carla Qualtrough and Patty Hajdu and BC Premier John Horgan, please click on the tab marked Video Library on the website.