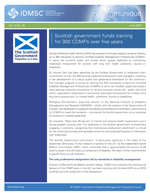 The Scotland Government has invested in the provision of a fiver-year program aimed at training up to 300 individuals to become Certified Disability Management Professionals (CDMPs) to serve the country's public and private sector groups dedicated to maintaining meaningful employment for workers with long term health conditions, injuries or disabilities.
Dr. Norma Clark, appointed by the Scottish Government to implement this commitment, emphasized the importance of the investment, "The Scottish Government is investing in the workforce, building a foundation of quality and governance that will impact the full breadth of services, and ultimately benefit the individual seeking employment or returning to work."
Graham Halsey, CDMP, Director of Well Working Matters, which oversees the training and delivery of the CDMP examination in the UK, has been working with Scotland NHS since 2010 building trust and recognition in the designation, says, "This will lead to an enormous change in the recognition of the importance of return to work as part of successful clinical outcomes. It solidifies that part of recovery from an injury or impairment is to return to work. This is the first areas in the UK where we've seen that approach."
Attached please find the IIDMSC Communiqué with further details.