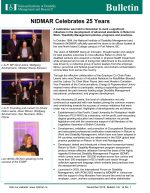 An event was held in Vancouver on December 2 to recognize and celebrate NIDMAR's 25 Years of developing and implementing professional and program standards in the field of Disability Management and Return to Work.
Speaking at the event were the Honourable Shane Simpson, BC's Minister for Social Development and Poverty Reduction; MP for Courtenay-Alberni, Gord Johns; international guests from Germany, Belgium and the United Kingdom; and founding and current NIDMAR Co-Chairs. A presentation was also made on the Enhanced Disability Management Program (EDMP) re the joint collaboration between the unions and the employers across the health care sector in BC.
For further information regarding the event and the various initiatives that NIDMAR has successfully undertaken over the last 25 years, please see details in the bulletin attached – highlights are:
– Establishment of the Pacific Coast University for Workplace Health Sciences (PCU-WHS), a statutory, not-for-profit, post secondary, degree granting University focused in the areas of health and safety, health promotion, disability management and return to work, and rehabilitation.
– Development, validation, and promotion of Occupational Standards in Disability Management, and the associated professional certification examinations, now adopted in 64 countries and referenced in the ISSA global best practice guidelines on Return to Work and Reintegration
– Developed, tested and validated a three-level consensus-based Disability Management / Return to Work program assessment protocol – the basis for which was used to create the EDMP in the health care sector in BC.
– Creation of the biennial international congress – the International Forum on Disability Management – NIDMAR hosted the first IFDM in 2002, and brought it back to Vancouver in 2018 hosted by PCU-WHS following successful IFDMs hosted around the world in the intervening years.
To view the Gallery of Photos, click on the following link: Gallery of Photos
For further information, please contact:
Email: nidmar@nidmar.ca