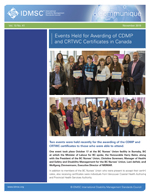 Two events were recently held in Canada – one in British Columbia and one in Ontario – for the presentation of CDMP and CRTWC certificates, and 10-year pins to those who have maintained their professional designations for 10 years.
The Honourable Harry Bains, BC's Minister of Labour, attended the event in Burnaby, BC and said of the event, "It was wonderful to be a part of a celebration for graduates of the Certified Disability Management Professional (CDMP) certificate program at the BC Nurses' Union. BC's professional network to support injured workers to return to work just got a little bigger."
A second event was held in Toronto during the Conference hosted by the Canadian Society of Professionals in Disability Management (CSPDM) when the CDMP and CRTWC certificates and 10-Year Pins were presented by IDMSC Co-Chair Prof. Dr. Joachim Breuer and Chair of the CSPDM Evie DoCouto who is Vice President, Return-to-Work Program at the Workplace Safety and Insurance Board of Ontario.
Prof. Dr. Joachim Breuer said of the event, "There's no successful inclusion of sick or injured people without a return to work philosophy; there's no successful return to work without highly qualified experts who guide the process; and there would be no experts of such kind without the worldwide accepted certification for disability managers and return to work coordinators from NIDMAR."
Please see the attached Communiqué for quotes from the main speakers at the events along with photos. More Information